The War Years 1939 to 1945
When war broke out it was rumoured that most of the course may be required for agricultural purposes but it soon transpired that the military would be setting up defensive gun emplacements on the golf course in an area adjacent to the sea. As a result the club lost the use of 3 holes.
Two huts were built beside the dogleg on the present 16th hole and which were to serve as a temporary Clubhouse for the duration of the war. This reduced the course to 10 holes. For the purpose of 18 hole competitions, members played the first 9 holes twice. Members were no longer able to enter the course from Seaside Place and had to enter via the gate at the rear of the Tennis courts.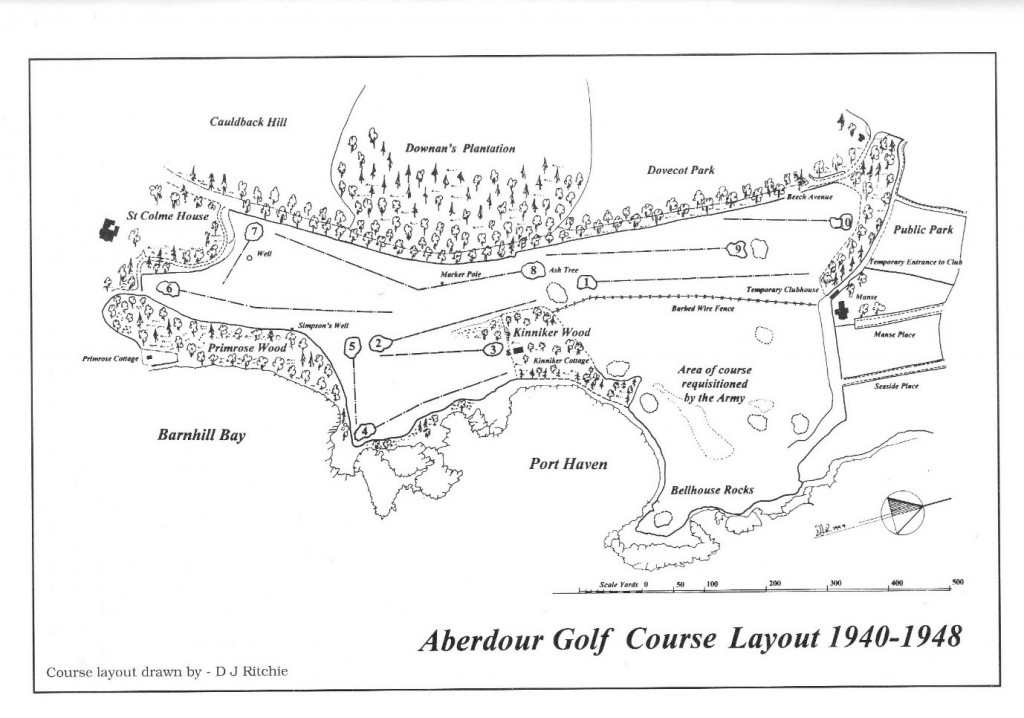 During the war period conditions changed in many ways:
There were no full time staff – only part timers under the guidance of the greens convener
Bunkers and rough were never raked or cut and soon became very formidable hazards
Golf balls became increasing scarce and consequently the 5 minute rule for searching for balls was stretched to the extreme!
Golf tees were extremely scarce and most players used sand provided in boxes to make a tee
As there was no Sunday golf permitted, a common Sunday occupation for the youths of the village was searching the rough for valuable balls.
Until 1943 the military area was occupied by the Royal Artillery but by then they had served their purpose of defending the approaches to the Forth Bridge and the Rosyth Dockyards. When they pulled out, detachments of the Polish Army were based at the Golf Course Camp. The Polish Officers used the Clubhouse as their mess.
Once the war was over the main pre-occupation of the Club was to restore the course to its former 18 hole layout. This work took until 1948 to complete. The Polish Army eventually left in 1947 and the Clubhouse was returned to the Club. The official release of the course by the War Department did not take place until the 23 February 1948.
The biggest problem with returning the course to the same layout was the removal of reinforced concrete gun emplacements in the area where the Clubhouse is currently situated.
One interesting footnote during this period was regarding the demolition of the Army buildings. An approach was made to the Club to recover the old bricks from the buildings being demolished and permission was granted. For many painstaking months thousands of bricks were recovered by one man and used in the construction of a bungalow at the West end of the village