Junior FitGolf Academy
Michael Kanev & Jack Stewart
Level 2 Coaching PGA Professionals
FitGolf at Aberdour Golf Club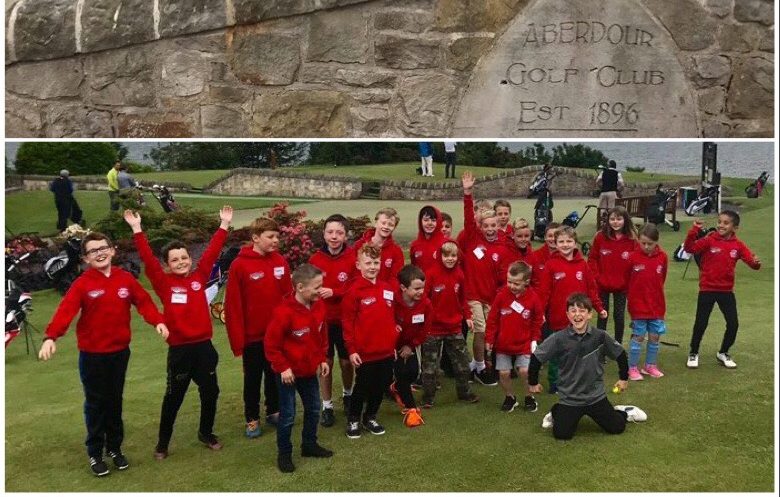 In our first year we have grown our numbers from four to over twenty five junior FitGolf members.
PLAYER OF THE WEEK TROPHY
THEMED COACHING SESSIONS
FLAG COMPETITION
FUN RUN DAYS
FITNESS COACHING
| | | |
| --- | --- | --- |
| Learn Golf | Enjoy Fitness | Have Fun |
| Lessons are run by Jack Stewart Assistant PGA Professional and assisted by group volunteers on a Saturday afternoon followed by a few holes on the course | Being healthy is an important part of participating in golf so alongside the lessons we teach juniors how to do this | Taking part is the most important thing so come along meet new friends and enjoy yourself and have fun learning golf |
JUNIOR FITGOLF ACADEMY COACHING
SATURDAY AFTERNOONS (SUMMER ONLY)
Junior FitGolf
We have put together a dedicated team and a coaching program with a difference to help us achieve our goal. Jack Stewart – PGA Assistant Professional – will lead the coaching alongside our lovely lady volunteers, Ruth and Sheila.
The FitGolf Program
With our FitGolf program we will look at building bonds between children through learning golf and keeping fit.
At Aberdour Golf Club we believe junior golf is a hugely important part of the club's future, we put a lot of time and effort into making Aberdour Golf Club a safe and fun venue for children to make friends and learn Golf. View the
FitGolf gallery
.
The Team:
Michael Kanev
Jack Stewart
Ruth Gillanders
Sheila Page
To book your child's FitGolf place, contact:
JUNIOR GOLF EQUIPMENT IS AVAILABLE ON THE DAY OR CAN BE PURCHASED FROM THE PRO-SHOP