Food & Drink 
Our bar and catering franchisee, Oui Chef, ran by Alan Matthew, offers a fantastic range of food for golfers and visitors to enjoy every day of the week.
From a golfers breakfast to a special 3 course dinner, our catering offers something for everyone, as well as a varied range of function packages to suit all types of events.
Along with the daily menu, Alan offers special menus and events throughout the year, details of which are shared across the Golf Club's social media, Club Newsletters and here on our website.
Eat Out to Help Out!
August 2020
View our special menu for the Eat Out to Help Out scheme for the month of August. T&C's apply.
All members and guests are eligible for the discount, every Monday – Wednesday during August!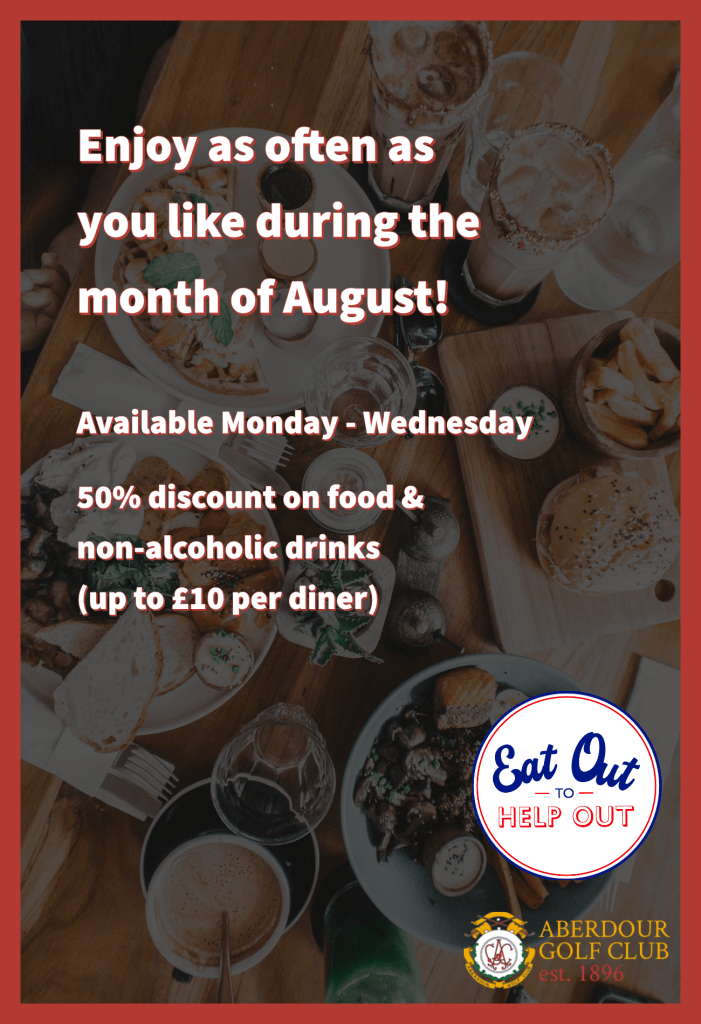 Menus
The clubhouse, bar and lounge is reopening on the 15th July. We will be offering a reduced menu to start off with plus Daily Special's each day as well.
Opening Hours
Opening Hours as of 15th July 2020
Eat Out to Help Out scheme will be available until 7pm, Monday – Wednesday with essential booking after 5pm.
Monday – 10am-3pm
Tuesday – 10am-3pm
Wednesday – 10am-3pm
Thursday – 10am-3pm
Friday – 10am-3pm
Saturday – 10am-
Sunday – 11am-
Weekend hours are dependant on business levels and may vary. We advise you check with the bar before heading out for your round.
Alternatively, please call 01383 860256 Option 3